Braydich Dental Donates $13,000 to Project Making Kids Count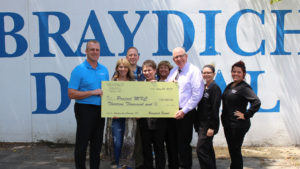 Dr. Mark and Rudy Braydich presented a check to Project MKC for $13,000 – a result of a successful Smiles for Charity campaign. The donation will help Project MKC expand their services, which include donating diapers to parents, running summer food programs, and creating comfort kits for kids in children's service agencies.
Since Smiles for Charity's inception in 2004, more than $300,000 have been raised and donated to selected non-profit charities. The annual fundraiser held March 1 through June 30, offers teeth whitening for $100 and 100% of the donation is given to the selected non-profit organization for that year.
 "Our team, community, as well as friends and supporters of Project MKC make this a win-win for everyone. – Rudy Braydich, Co-owner of Braydich Dental