Pediatric Dentistry
Our team provides children in Hubbard, OH, and the Mahoning Valley with comfortable and compassionate pediatric dentistry.
We specialize in catering to the unique dental needs of children, ensuring their oral health and promoting positive dental habits from an early age. Read for more information about our children's dentistry services, our team's expertise, and answers to frequently asked questions.
---
Pediatric Dentistry Services
Our pediatric dentistry services are designed to address the specific oral health needs of children at different stages of their development. We offer a comprehensive range of services, including:
Routine Oral Health Exams: Thorough dental check-ups to monitor oral health, identify any issues, and provide preventive care.
Dental Cleanings: Professional cleanings to remove plaque and stains from teeth, promoting good oral hygiene.
Dental Fillings: Restorative treatments to treat cavities and preserve the health and function of affected teeth.
Dental Sealants: Protective coatings applied to the chewing surfaces of teeth to prevent cavities.
Fluoride Treatments: Application of fluoride varnish to strengthen tooth enamel and protect against decay.
Oral Surgery: We perform several oral surgery procedures at our Hubbard office that will eliminate your pain and help you feel like yourself again.
Emergency Care: We offer same-day services and comfortable treatment options to ensure a pain-free visit.
Education on Proper Oral Health Habits: Taking your child to the dentist at a young age will provide them with the educational resources they need and can help ease any concerns or fears they have about the dentist.
---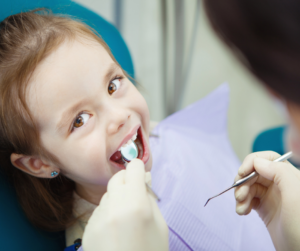 Our Experience in Pediatric Dentistry
Our dedicated team of pediatric dental professionals has extensive experience in providing top-quality care for children. We understand the unique needs and concerns of young patients, and our friendly approach creates a welcoming environment that helps children feel at ease during their dental visits. With a focus on education and compassionate care, we strive to make each dental experience positive and enjoyable for both children and parents.
Children Dentists You Can Trust
When you choose Braydich Dental as your trusted family dentist, you can be sure your child receives the attention they deserve. Our fun and friendly staff work to provide an enjoyable experience from start to finish, so you can rest easy knowing your child is receiving the best possible care in a fun environment.
---
Frequently Asked Questions about Pediatric Dentistry
When should my child have their first dental visit?
Most babies start teething around four to seven months old. However, they won't need to see a dentist until they are about two years old.
How often should my child visit the dentist?
It is generally recommended that children visit the dentist every six months for regular check-ups and cleanings. However, the frequency of visits may vary depending on your child's specific dental needs.
What can I do to help my child maintain good oral hygiene at home?
Encouraging regular brushing and flossing, limiting sugary snacks and beverages, and promoting a balanced diet are important steps in maintaining your child's oral health. Our team will provide guidance on pr
oper brushing and flossing techniques and recommend age-appropriate dental care products.
What if my child is nervous or anxious about dental visits?
Dental anxiety is common among children, and our team is experienced in working with young patients who may feel nervous. We employ child-friendly techniques, gentle approaches, and effective communication to help children feel comfortable and relaxed during their visits.
Does my child have tooth decay?
Did you know tooth decay is one of the most chronic childhood conditions in the United States? If left untreated, it can result in tooth loss and other harmful infections in the body. The good news? This is completely preventable with regular trips to the dentist and an oral health routine at home. If your child shows signs of mouth discomfort, schedule a visit with your dentist immediately to stop cavities in their place.
Download our Kid's Oral Health Guide
For more helpful tips and resources, we invite you to download our Quick Guide to Kid's Oral Health to kick-start your child's oral hygiene routine.
---
Taking your child to the dentist at a young age will provide them with the educational resources they need and can help ease any concerns or fears they have about the dentist. Routine checkups also allow our team to monitor how well your child is taking care of their teeth between visits.
Good oral habits will lead to even better oral health. This will give your child the opportunity to thrive in school and other activities. Schedule your child's next dental appointment with Braydich Dental and get them on the road to a happy, healthier smile.