Dental Implants
A secure and lasting solution.
Restoring your smile with dental implants offers you the chance to live your life as if you had never suffered from missing teeth. With innovative dental technology and a team of highly skilled doctors, Braydich Dental is helping people live confidently and free of chronic dental health issues. When your treatment is complete, you should be able to chew, speak, and socialize without experiencing the negative emotions that having missing teeth can sometimes cause.
---
What are dental implants?
A dental implant is a permanent anchor placed into the jawbone that provides a firm foundation for a tooth replacement. Each implant features an artificial root, the abutment, and a crown.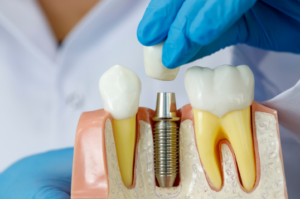 Surgically inserted into the sockets left by missing teeth, the man-made teeth are accepted by the body and stimulate the surrounding jawbone by acting as natural teeth.
Am I a good candidate for dental implants?
We provide dental implants to individuals who are missing teeth or unable to wear dentures. Most often, denture patients suffering from slipping or loose appliances turn to dental implants for better stability. We recommend speaking with a member of our dentistry team to determine if you're a good fit. Typically, if you're in good health and have the proper bone structure, then yes, you're eligible.
What are the advantages of dental implants?
Dental implants require no adhesives, suction, clasps, or crowned support teeth to stay in place. Compared to dentures, which typically last between five and seven years, dental implants can last a lifetime with proper care and regular professional cleanings.
A Permanent Solution
There is no daily removal or repetitive dental work.
Prevent Jawbone Loss and Enhance Oral Health
They promote bone growth by stimulating the jawbone and acting as your natural teeth. They also maintain the bone around the jaw that would otherwise deteriorate if dental implants were not in place.
Eat, Speak and Socialize Comfortably
We know it's more than just missing teeth. It's that uncomfortable feeling you get when you eat, socialize or even brush your teeth. Dental implants allow you to live your life confidently and comfortably by providing the closest alternative to your natural teeth.
Four-Step Transformation Process
Four painless appointments stand between you and your transformation. We'll begin with a careful assessment to determine if dental implants are a right fit for you, then schedule additional appointments to complete the treatment process.
What can I expect during my treatment?
Treatment is done under a local anesthetic and is relatively quick and painless. While many patients do experience some degree of discomfort after the procedure, most will fully recover within 24 hours, in which pain relief can be prescribed.
What is the cost of dental implants?
Depending on the number of implants needed, patients can expect to pay one upfront cost for the entire treatment with no hidden fees. Financing options are also available if needed to help fit your budget.
What's in our dental implants?
Braydich Dental uses high-quality, medical-grade titanium materials that deliver healthy teeth and a life-long smile. Durability and reliability are at the core of our components, providing an allergen-free, safe, and trusted option for optimal patient care.
Dental Implants Dentist in Hubbard, OH
You're more than just a patient. At Braydich Dental, we treat you like family, which is why we do our very best to ensure your comfort and care before, during, and after your dental implant treatment.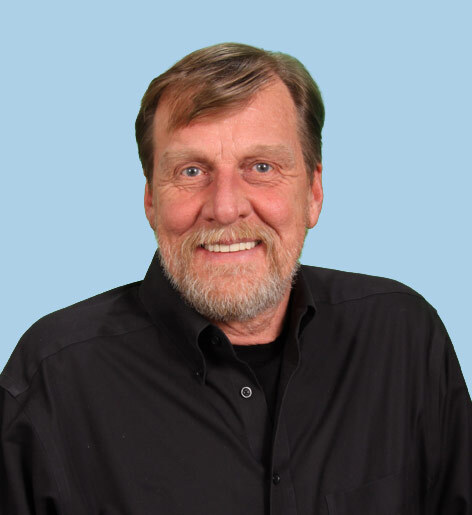 Our experienced dentists and clinical team use only the most advanced, state-of-the-art technology available in restorative dentistry to give you a healthy and beautiful looking smile. Plus, rest easy knowing your appointments, imaging, and dental implant procedure are all conveniently done under one roof from our dentistry in Hubbard, Ohio.
Ready to love your smile?
Schedule your free, no-obligation consultation today and discover how dental implants from Braydich Dental can have you smiling from ear to ear.
Went one year without dental implants, it was the worst thing I ever did. The dentures were flipping and flopping. After Dr. Mark talked to me about getting implants, it's great! I can eat the corn, eat the steak, candy, it doesn't matter. Best thing ever invented!

– Duke Burrell, Hubbard, OH