Coronavirus Statement from Braydich Dental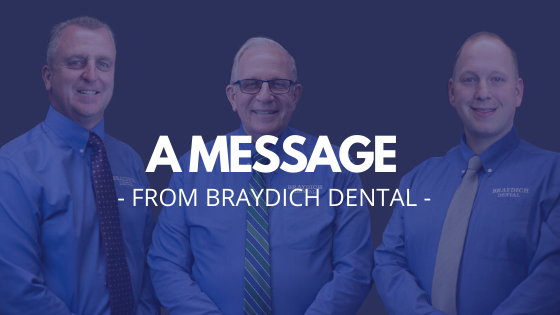 Braydich Dental is closely monitoring the situation with the Novel Coronavirus (COVID-19), taking precautionary measures set forth by the Centers for Disease Control (CDC) and World Health Organization (WHO), along with following guidelines from state and local health organizations. Our priority has always been the health and safety of our patients and employees, which is why we go above and beyond to ensure your trust and comfort.
Since Braydich Dental already practices state-of-the-art universal precautions for hepatitis, HIV, HPV, colds and flu, COVID-19 does not require any major changes in how we protect our patients and employees. However, we do wish to strengthen our efforts to prevent disease and the spread of viruses. Here are the steps we are taking to keep everyone safe:
Cleaning and disinfecting all patient rooms, offices, common and back-of-house areas, air conditioning units and commonly touched surfaces throughout the dental office
Continue training and implementing global standards of sanitation adhered by the ADA and OSHA
Reinforcement and documentation of employees' handwashing requirements – using soap and alcohol-based sanitizer to frequently and rigorously wash hands according to strict protocol
Continue wearing masks and gloves for patient care
Limiting physical contact, including handshakes
Encouraging patients to apply appropriate handwashing practices and use of hand sanitizing gel
Dental team training on closely monitoring and identifying any flu or virus-associated symptoms, and reporting conditions to local health officials
Braydich Dental will keep you informed with the latest information and updates about COVID-19 as they become available. We thank you for your continued patience and trust and look forward to welcoming you to Braydich Dental for your next scheduled appointment.