Dental Health Services for Children
Providing children in Hubbard, OH and the Mahoning Valley with comfortable and compassionate dental services.
Braydich Dental is dedicated to providing children with the dental care they need in a positive and safe environment. Your child receives comfortable oral health services from a team of fun and friendly dentists who have their best interest at heart.
---
When should my child start seeing the dentist?
Most babies start teething around four to seven months old. However, they won't need to see a dentist until they're about two years old. It's recommended that children begin seeing the dentist twice a year by the time they're three. We'll check their development during their visit, look for potential oral health issues, and ensure they are on track.
We provide a complete selection of child-friendly services, including:
Routine Oral Health Exams
Cleanings & Fillings
Preventative Measures such as Sealants
Education on Proper Oral Health Habits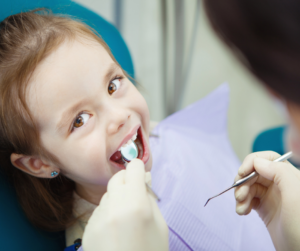 Did you know tooth decay is one of the most chronic childhood conditions in the United States? If left untreated, it can result in tooth loss and other harmful infections in the body. The good news? This is completely preventable with regular trips to the dentist and an oral health routine at home. If your child shows signs of mouth discomfort, schedule a visit with your dentist immediately to stop cavities in their place.
Taking your child to the dentist at a young age will provide them with the educational resources they need and can help ease any concerns or fears they have about the dentist. Routine checkups also allow our team to monitor how well your child is taking care of their teeth between visits.
Good oral habits will lead to even better oral health. This will give your child the opportunity to thrive in school and other activities. Schedule your child's next dental appointment with Braydich Dental and get them on the road to a happy, healthier smile.
Children Dentists You Can Trust
When you choose Braydich Dental as your trusted family dentist, you can be sure your child receives the attention they deserve. Our fun and friendly staff work to provide an enjoyable experience from start to finish, so you can rest easy knowing your child is receiving the best possible care in a fun environment.
Download our Kid's Oral Health Guide
For more helpful tips and resources, we invite you to download our Quick Guide to Kid's Oral Health to kick-start your child's oral hygiene routine.