Valid through: June 30th, 2023
Smiles for Charity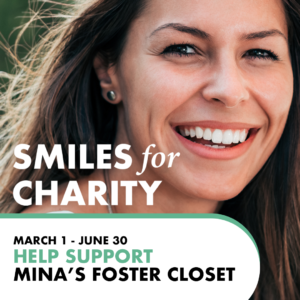 Since 2004, Braydich Dental has held its annual initiative to raise money for a nonprofit organization. This year, the dental practice is raising money for Mina's Foster Closet, a local charity that provides new or lightly used items to foster families.
To raise the money, Braydich is selling all-in-one teeth whitening kits for $100 beginning on March 1. The kit is a $299 value and includes:
-Expertly fitted upper and lower teeth whitening trays
-Whitening gel that lightens teeth by 5-7 shades
-1-on-1 consultation appointment with specialist
All the proceeds will go to Mina's Foster Closet.
If you have already purchased a kit, additional whitening gel can be purchased BUY 2 GET 1 FREE, with proceeds also going to Mina's Foster Closet.
This initiative lasts until June 30.
Call 330-294-9799 to schedule your appointment!