Sedation Dentistry
You R

elax

,

We'll Do The R

est. Get The Smile You Want Without The Stress.
What is Sedation Dentistry?
Sedation Dentistry reduces anxiety, discomfort and pain through medications administered before or during a dental procedure. The medication is available in multiple forms, ranging from mild to moderate, depending on the level that is right for each patient. Patients remain conscious during their treatment but feel deeply relaxed and free of discomfort. Some patients may experience periods of light sleep but can usually speak and respond to verbal cues, making it a safe and calming solution.
---
Types of Sedation Dentistry
Inhaled Nitrous Oxide Sedation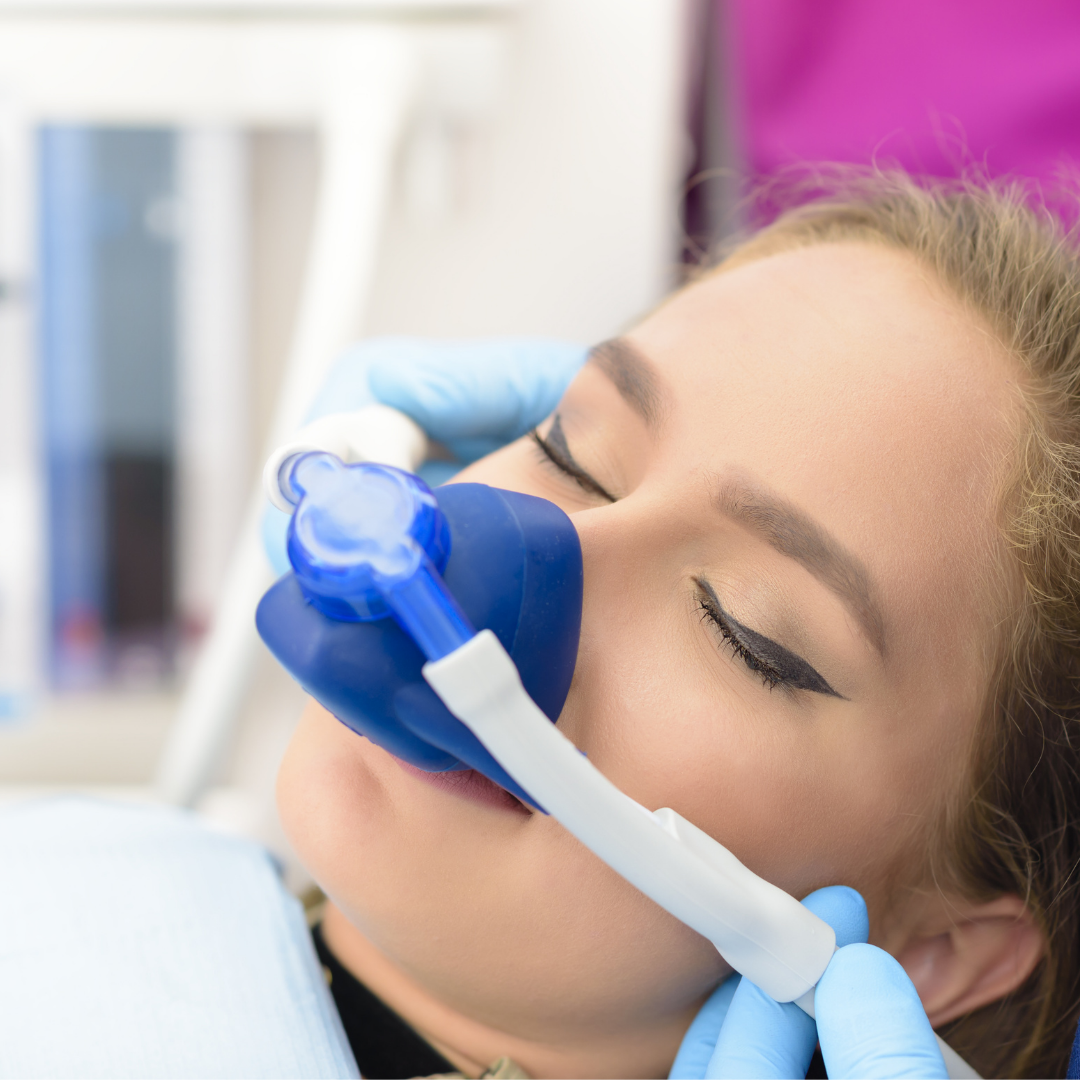 The mildest form of sedation involves breathing in nitrous oxide, also known as "laughing gas," through a lightweight mask placed over the patient's nose. The patient is awake during the procedure but feels relaxed and comfortable. Patients commonly describe this as a deeply calming sensation, feeling little to no discomfort but responsive and aware of their surroundings.  
Nitrous Oxide is considered a minimal level of sedation. It's always combined with supplemental Oxygen to safely and effectively manage pain and anxiety during dental treatment. The effects of Nitrous Oxide typically wear off within minutes after the gas is lifted, allowing the patient to drive home safely and return to everyday activities after their appointment. 
Oral Sedation
Patients take a pill before their dental procedure, giving them a sense of drowsiness and deep relaxation. Individuals typically remember very little from their appointment but are still responsive. Oral sedatives can safely be combined with nitrous oxide or incrementally dosed at chairside to achieve an optimal level of relief for patients experiencing severe anxiety or discomfort. Non-oral options are also available for patients with difficulty swallowing, such as intranasal delivery or administered under the tongue.   
Oral sedation offers minimal/mild relief when taken as a single dose before treatment. However, it can be adjusted to offer moderate relief, especially when combined with other forms of sedatives. It may cause grogginess, and the patient must rely on another driver to bring them to and take them home from their appointment.   
Intravenous (IV) Moderate Sedation
IV Sedation is the deepest level of sedation we offer, providing quick and effective relief through an intravenous drip administered by the dentist. Anti-anxiety medication, sedatives and pain relievers are given directly through the IV, which helps the patient to relax and go into a light "dreamlike" sleep of moderate sedation during their procedure. The dentist can easily and SAFELY adjust the level of sedation within seconds, depending on the patient's comfort level.   
IV Moderate Sedation is typically used for multiple tooth extractions, wisdom teeth removal, dental implants and other oral surgeries that require greater relaxation and pain relief. It's also a great solution for patients with severe dental anxiety, true dental phobia, or those who require a significant amount of dental work completed in one visit. Patients are required to have another driver bring them to and from their appointment when receiving IV sedation.
Who is a Good Candidate for Sedation Dentistry?
Patients who have dental phobia, a strong fear of the dentist or avoid going altogether are great candidates for sedation dentistry. It's also a viable option for patients with a strong gag reflex or sensitivity to sights and sounds during treatment. During a free consultation, Braydich Dental will conduct a thorough health questionnaire to determine if sedation dentistry is the right solution for you.  
There may be limitations depending on a patients' medical history, pre-existing conditions or past reactions to sedatives. In this case, we may recommend consulting with a primary care physician before sedation dentistry.  
Is Sedation Dentistry Safe?
YES. Even if the patient is lightly asleep during a moderate sedation procedure, they still maintain full control of their own breathing. They can easily respond to commands, typically without remembering any part of what they may consider a "scary" procedure. Patients can feel at ease knowing their breathing, oxygen levels and blood pressure will be closely monitored throughout the procedure, allowing for a safe and comfortable option for receiving dental care.   
What Can a Patient Expect After Sedation?
Most patients recover quickly and return to their daily activities shortly after their procedure. However, deeper levels of sedation can leave a patient feeling drowsy and light-headed. A brief period of amnesia is a common side effect and may erase any memory of the procedure. Some patients have also described having mild headaches or a queasy stomach after their appointment, but this typically subsides within an hour or two. During an IV sedation appointment, medication will be given to reduce or eliminate any potential postoperative nausea or vomiting.  
It is very important that patients DO NOT DRIVE ANY VEHICLE OR OPERATE MACHINERY for at least 24 hours following deep sedation. This is imperative because sedatives slow your reaction time. Even though you may feel normal, your reactions are still affected. 
What Procedures Can Sedation Dentistry be used for?
Fillings

 

 

Root Canals

 

 

Tooth Extractions 

 

 

Wisdom Teeth Removal 

 

 

Oral Surgery 

 

 

Crown and Bridgework

 

 

Dental Implants

 

Cosmetic Dental Procedures

 

 

Routine 

& Deep 

Cleanings

 

Periodontal Treatmen

t

 

Quadrant Dentistry or Full Mouth Treatment

 

Other 

Complex

 Procedures

 
Insurance Information
Braydich Dental can determine your coverage for sedation dentistry through a complimentary benefits check. We encourage you to contact Braydich Dental to discuss your interest and determine if sedation dentistry is right for you.   
Call 330-992-2342 to discuss your comfort options today.